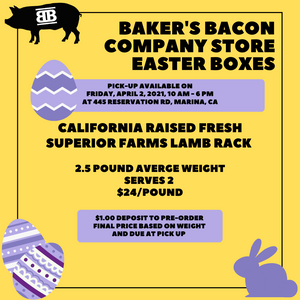 PICK UP ONLY.  Pick up is available on Friday, April 2, 2021 from 10 am to 6 pm at the Baker's Bacon Company Store, 445 Reservation Rd, Marina.  Sorry these boxes can't be shipped!
California Raised Fresh Superior Farms Lamb Rack
2.5 pound average weight / serves 2
$24/pound
Meat will be raw and suggested cooking instruction cards will be included.

Final price will be determined by weight. $1.00 Deposit to reserve.